Prepping for a family picnic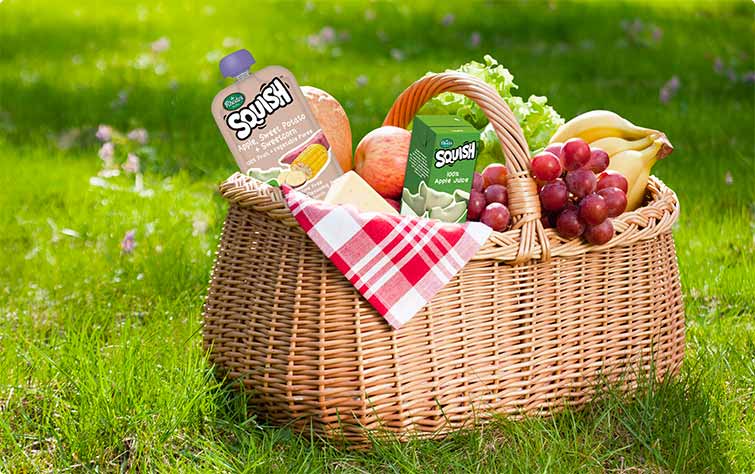 With Spring well and truly on the way, it's time to grab those picnic baskets, dust off the blankets and head outdoors. It's that time of year where the weather is juuuuust right – not too hot and not too cold, and where kids of all ages thrive from being in nature.
Deciding what to pack in your picnic basket that will appeal to the whole family can feel like a challenging task, but with the right guidance you will be pleasantly surprised at how hassle-free it can be. If you have small toddlers and babies, here are some great ideas to incorporate into your picnic that will take your spread from bland to bold in no time at all.
Remember it's always a good idea to include a variety of foods from all the different food groups and to keep your selection of food as fresh and as healthy as possible. Aside from the odd treat, it's a wonderful season to enjoy food in its natural state, and to keep encouraging and enjoying healthy mealtimes as a family. That doesn't mean food needs to be bland and boring, quite the opposite.
SOMETHING FRESH – Crudités and dips – Such a great and easy way to bring in something raw and fresh to your picnic. Simply chop up some carrots, cucumber, mini sweetcorn, sugar snap peas packed in an airtight container.
Include some healthy dips like hummus, home-made guacamole and tzatziki. For the little ones, pour some Squish 100% Fruit and Veg purees into little bowls as a yummy dipping sauce. The novelty of dipping their food will add some fun to the occasion. Another idea is to layer each vegetable in mini glass console jars to create individual "rainbow pots" for each person to enjoy.
SOMETHING CARBY – Sweetcorn and banana fritters (Made incorporating banana Squish 100% Banana and apple puree) These are the perfect mix of savoury and sweet – a perfect delicious accompaniment to any outdoor picnic. They keep well and the kids LOVE them!
And/Or some simple finger sandwiches. Child/toddler friendly fillings could include: egg / tuna / chicken mayo, cream cheese and fresh strawberries, cheese and jam, marmite and cheese, peanut butter and strawberries.
For babies, Squish 100% Veg Sweet potato and butternut puree can be added to any other foods (such as pasta and rice), or simply enjoyed straight from the pouch. Talk about convenience without compromise, because Squish 100% fruit and veg purees contain no added starch and are free from preservatives, colourants and flavourants!
SOMETHING MEATY – For protein, why not include cold meats, rotisserie chicken pieces and biltong?
If you are vegetarian or vegan include some nuts, roasted chickpeas or lentil salad. And boiled or stuffed eggs are a family must have at any picnic.
SOMETHING CHEESY – What's a springtime picnic without cheese and preserves? Enjoyed as a starter or dessert, this is something the kids will enjoy, too. And it's the perfect treat to pair with Squish 100% fruit and veg pressed juices.
SOMETHING FUN AND BRIGHT – Fruit skewers can be enjoyed by the whole family. If your toddler enjoys dipping their food, include Squish 100% Fruit and Veg purees in a dish and let them have some dipping fun!
SOMETHING SWEET – Try these delicious healthy chocolate brownies, using Squish 100% fruit puree – perfect to be savoured at the end of a slow leisurely afternoon under the vast blue skies. They are healthy and will be enjoyed by all.
HOW TO MAKE HEALTHY SQUISH CHOCOLATE BROWNIES:
INGREDIENTS:
1/2 a cup melted coconut oil
3/4 cup wholewheat flour
1/2 teaspoon baking powder
1/2 cup of granulated sugar (You could also use honey or maple syrup)
2 large eggs
3/4 cup of cocoa powder
1 Squish 100% fruit puree of choice
2 large zucchini finely grated
dark/milk chocolate chips
METHOD:
Mix your eggs, vanilla essence and Squish 100% fruit puree together. Add your melted oil (at room temp) and then mix in your sugar/honey. Once that's all mixed well, you can add your grated zucchini. Give it the mixture a good stir before finally adding the flour, cocoa and baking powder. Ensure it's all mixed sufficiently, and then simply spread it into a baking pan lined with baking paper. Sprinkle with choc chips before placing into a preheated oven. Bake for 12-15 minutes at 180 degrees. Less is usually best!