Your Food Journey
Weaning Babies 6 Months+
The recommended age to start the weaning process is around 6 months*, but the precise age to start the your baby's weaning may vary.
You may find that your baby is showing signs that they could be ready for solids earlier.
As a result, we encourage you to speak to a nurse or specialist to discuss how and when to start the process.
Your baby has relied solely on milk since birth, and now a whole new world of food and flavourful adventure awaits.
We at Squish are passionate about making this transition fun and stress-free. We are here for you every step of the way, offering a selection of delicious, 100% fruit and vegetable purees that your little one is bound to enjoy.
Starting on the right foot early on, will help form healthy and positive eating habits that could be set to last a lifetime.
*The South African National Department of Health and the World Health Organisation recommend exclusive breastfeeding for the first 6 months of a baby's life.
TIPS & HELPFUL INFO
WHAT SHOULD I BE FEEDING MY BABY?
We recommend to start weaning your baby with smooth vegetable and fruit purees. First foods should be:
easy to digest,
soft, and
slightly more runny in a texture.
This is what makes Squish vegetable and fruit purees perfect for your baby's first food. Once your baby is eating these, gradually introduce a greater variety. This includes meat, poultry, pulses and grains. As little ones grow, they can begin exploring chunkier textures. So, adding food like rice, lentils, fish, meat and pasta to their favourite Squish 100% vegetables purees is ideal.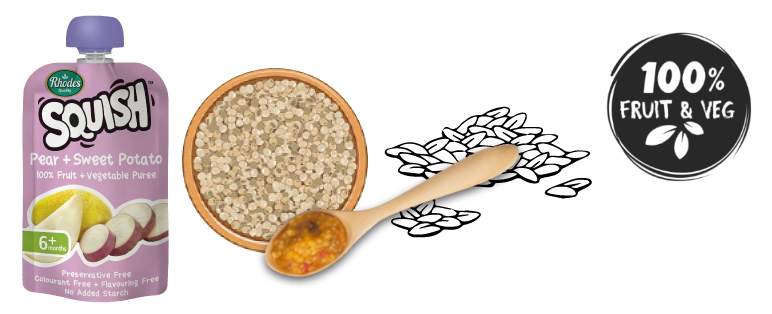 HOW OFTEN AND HOW MUCH SHOULD I BE FEEDING MY BABY?

We recommend these 4 steps for weaning your baby off breastmilk:
Step 1: Start by feeding your baby 1 to 2 teaspoons up to twice a day.
Step 2: After a week or two, add a third spoon.
Step 3: Over the next few weeks, gradually increase the thickness of the puree and the amount of food you feed your baby to half a cup.
Step 4: Let the amount of food you feed your baby be led by her. Don't force-feed your baby, if they appear to be full.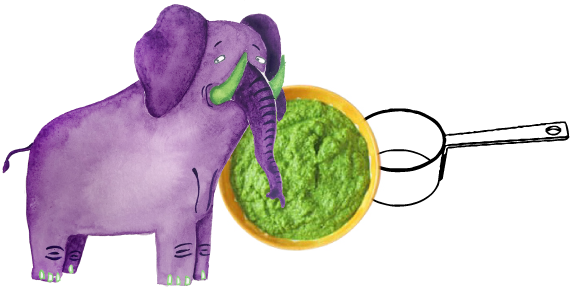 * THE DEPARTMENT OF HEALTH AND THE WORLD HEALTH ORGANISATION RECOMMEND EXCLUSIVE BREASTFEEDING FOR THE FIRST 6 MONTHS OF A BABY'S LIFE.